Basketball: Contest for finals spots
15/11/2018
School Sport Victoria (SSV): Loddon Mallee Region
On 25 October, Catherine McAuley College was represented by our Intermediate Girls and Year 8 Boys teams at the Loddon Mallee Regional Basketball Finals Day. With a place in the State Finals on the line, all games were important. Both teams performed exceptionally well and should be proud of their efforts.
INTERMEDIATE GIRLS
The combination of the Year 9 and Year 10 girls was dynamic and brilliant. In Game 1 the girls played Swan Hill College and started well – they came away with a good win and had set themselves up for a good day ahead. Game 2 was against Rochester. Here all players managed to get a lot of court time and, even though they started slowly, came home strongly to record a brilliant 32-point win. Game 3 was the last of the day and a win was essential if they wanted to qualify for the States. The match was against their highly-rated opponents, St Joseph's College Mildura. It was a tight match, however the girls always seemed to have the edge and won a super game by nine points.
It was an excellent day of fun, as all players displayed great team work, skill and sportsmanship. They have now qualified for the SSV State Finals to be played at the Melbourne Sports and Aquatic Centre on 20 November…good luck girls!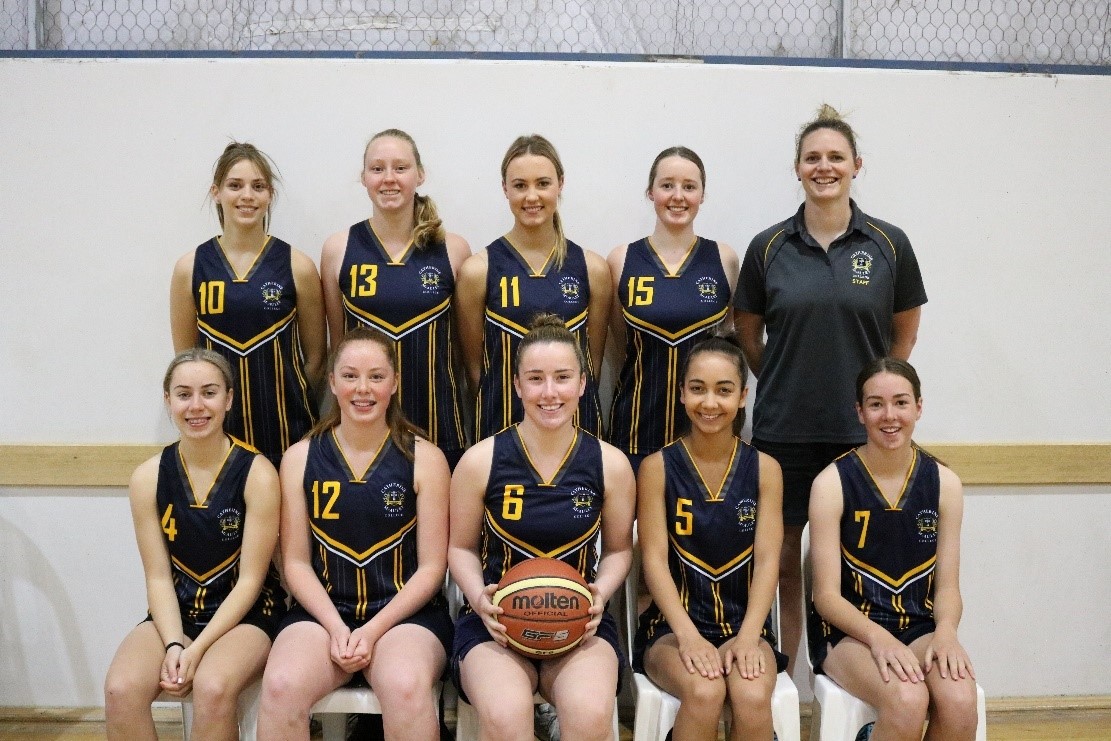 Back Row L-R: Madeline Marks JR11, Piper Dunlop VT3, Ruby Turner CH8, Brianna Harris JR9, Miss Eleanor Haring (Coach)
Front Row L-R: Meg McCarthy VT3, Emily Collins MK4, Abbey Clohesy MK1, Tiahna Leader MY3, Ellie Vlaeminck MK1
YEAR 8 BOYS
The Year 8 boys played their first game against St Joseph's College Mildura. Mildura started the game strongly, building an early lead. They were shooting an incredible field-goal percentage compared to our boys, who were finding it difficult to get open shots. The deficit was twenty points at half time. Although they were more competitive in the second half, they were unable to reduce the margin, losing their first game.
The boys then played at a greater intensity in their second match against Maryborough Education Centre. Some fantastic defensive efforts in the first half led to easy fast-break scores. The high-pressure defence continued into the second half and they were able to get their first win of the tournament. Their third match was against St Joseph's Echuca, who were on top of their pool. Our shooting in the first half let us down again as St Joseph's took control of the game early with a 15-point lead. Determined not to be blown out, the boys bounced back in the second half. Their rebounding and unselfishness in offence created scoring opportunities and they managed to reduce the deficit to just five points with only two minutes left. Unfortunately, they were unable to reduce the margin any further and they lost by seven.
Their final game was against St Mary Mackillop College Swan Hill in a battle for third. The first half was very open, with the boys attempting many alley-oops and deep 3-point shots. We trailed at the end of the half; however, the boys put together another energetic second half. Instead of alley-oops and threes, the boys went back to the fundamentals of making layups and taking open shots. They were able to take the lead with five minutes left and maintained it for the rest of the match, winning by just three points. The boys finished third and should be very proud of their efforts.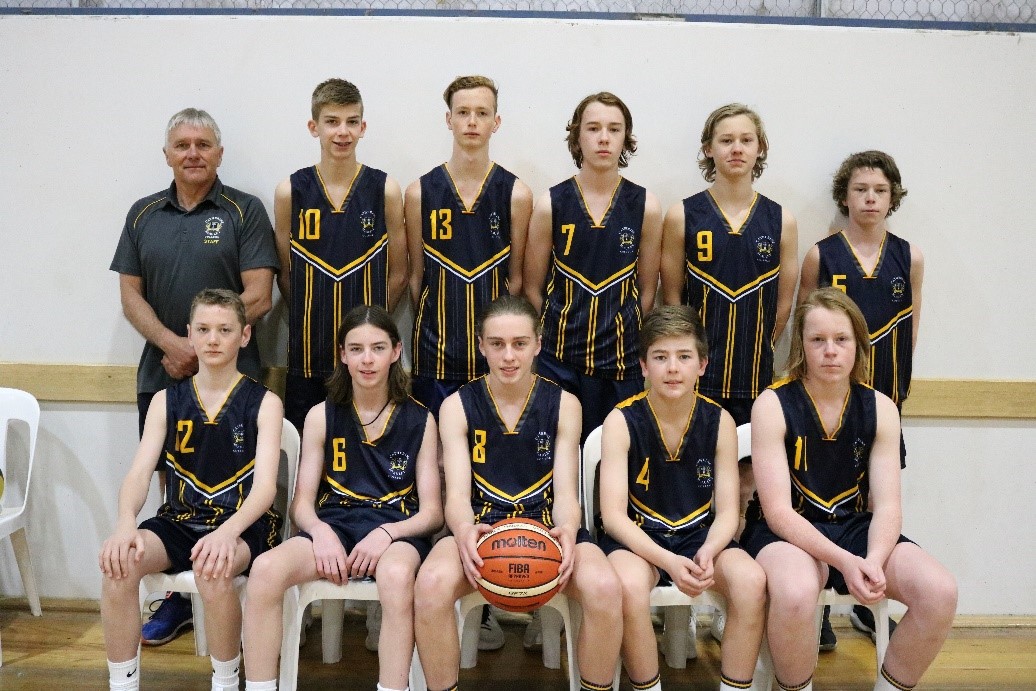 Back Row L-R: Mr Damian Driscoll (Coach), Jacob Nihill CH5, Hugh Morris CH5, Oliver Mayman CH4, Joshua Harris JR3, Matthew Noden MK1
Front Row L-R: Liam O'Brien MY2, Jett Wade-Roberts CH2, Zavia Roberts VT3, Riley Bruce MY1, Joshua Gillies CH2