Badminton Girls through to State Finals
01/08/2018
Following a triumphant day at the Loddon Mallee Regional competition the Year 7 girls are headed for the State Championships.
SCHOOL SPORT VICTORIA LODDON MALLEE REGION –
On 26 July the Year 7 Girls Badminton Team represented Catherine McAuley College (CMC) at the Loddon Mallee Region Badminton Championships. The team travelled to Kyabram to take on Echuca for a spot in the State Championships. They played four singles matches and two doubles matches, with CMC winning four matches and finishing triumphantly on 127 points to 102.
The girls are very excited now for the chance to compete at the State Championships on Tuesday 18 September in Melbourne.
"We enjoyed ourselves and are looking forward to playing in the State Finals very soon."
Congratulations to Tamara Duane, Amy Wrigglesworth, Layla O'Shae, Pearl Sullivan and Cate O'Bree.
Special thanks to our coach Mr MacDonald, and our team Manager Sam.
Year 7 Girls Badminton Team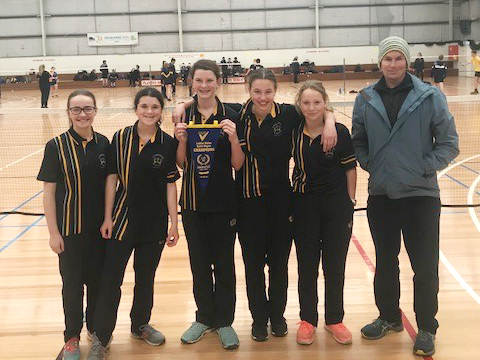 L-R: Tamara Duane CH4, Amy Wrigglesworth MY3, Layla O'Shea BK1, Pearl Sullivan MK2 and Cate O'Bree VT2, Mr Chris MacDonald (Coach)