A winning start to the senior netballers 2021 campaign
23/06/2021
SCHOOL SPORT VICTORIA: SANDHURST DIVISION
On Friday 18 June, the Senior Girls Netball team competed at the Sandhurst Division Championships in the School Sports Victoria competition.
Game 1 v Girton Grammar School
The girls settled quickly into the first game of the day. Siarne Cass was on fire in the first half shooting 5 goals from 5 attempts. She was well fed by Meg McCarthy in WA and Abbey Clohesy in C. With a 14 – 3 lead at half time all players were able to take the court in the first game. Ava Hamilton continued her excellent form at GS in the second half, with a perfect 11 goals from 11 attempts. Katie Dean moved onto GD with Charlotte Sexton in GK. This strong defensive line up kept Girton to a mere goal in the second half. Final result: CMC 23 – Girton 4.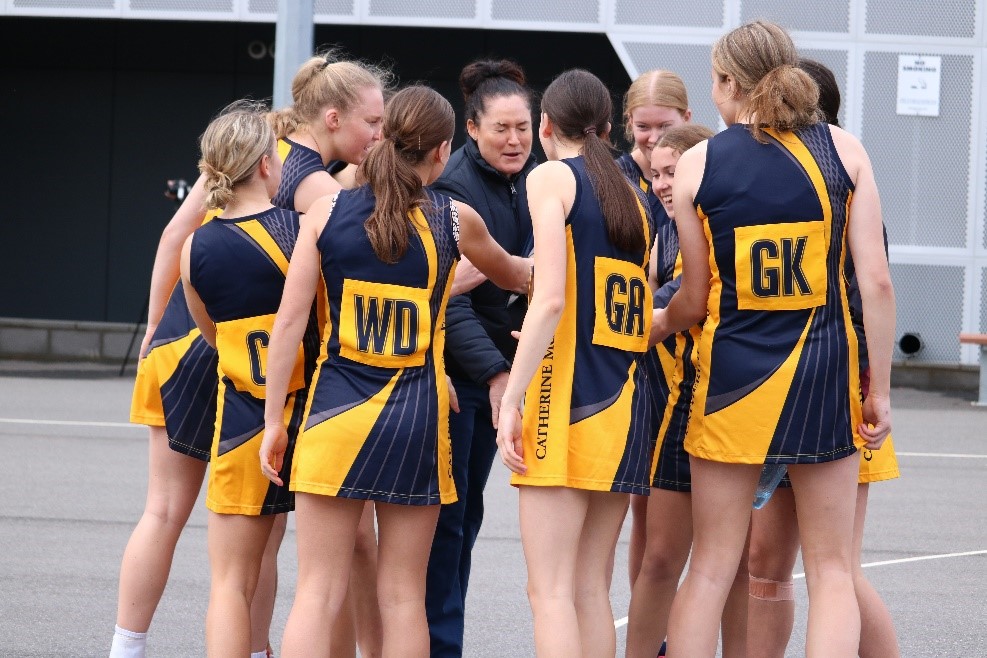 Game 2 v Castlemaine Secondary College
Carissa Brook started the game in Centre and was challenged by the speed of her Castlemaine opponent. Carissa was up to the challenge and worked hard creating many turnovers in defence and opportunities in the attack end. Siarne and Aimee Dean moved very well in the goaling circle in the first half, scoring 10 goals collectively without a miss. Charlotte moved into GS in the second half scoring an impressive 8 goals.  Abbey at GD and Katie at GK kept Castlemaine to only 5 goals in the second half, thus proving the versatility of this team. They were well supported bringing the ball out of defence with Lucy Sheriff providing many opportunities, 'shooting' through the mid-court. Final result: CMC 24 – Castlemaine 9.
Game 3 v Marist College Bendigo
This game was predicted to be a hard-fought game due to the talent on court for Marist. Ava at GA shot well again and also provided great defensive pressure leading to many turnovers. The dynamic duo of Charlotte and Piper Dunlop in defence kept Marist to a mere 3 goals to half time. In the second half Meg moved into the C with Carissa at WA. They were able to accurately feed Siarne in GS and Aimee in GA. Meg combined very well with Abbey at WD, Katie at GD and Piper at GK to bring the ball smoothly, and with speed out from the defence end. Final result: CMC 18 – Marist 8.
 Game 4 v Bendigo Senior Secondary College
Both teams headed into this game undefeated. With such a fierce rivalry, we knew we had to bring out our very best on court. It was a goal shooting bonanza in the first half with Siarne GS and Ava GA heading to a very quick 11 – 2 lead. Meg and Carissa increased their work output in this game with skilful driving onto the circle to feed the goalers. In the second half, Lucy was brilliant at WD with a flawless game bringing the ball through the mid court. The dynamic duo of Charlotte and Piper were at it again. The defensive end only allowed 1 goal to be scored by BSSC in the second half. Final result: CMC 19 – BSSC 3.
It was a terrific start to the 2021 campaign by this team who are determined to make up for not being able to play at all last year.
Thanks also to Miss Anthea McEniry for coaching.