A brilliant result sees senior netballers advance to regionals
29/05/2019
The Catherine McAuley College (CMC) Senior Girls Netball Team knew they were a strong team, but with the early departure of Bronte McConnachie (Year 11) and Ruby Turner (Year 11) due to illness, they were feeling on shaky ground for the Sandhurst Division competition on Tuesday 28 May.
The girls played exceptionally all day, defeating Castlemaine Secondary College, Marist College Bendigo and Bendigo Senior Secondary College (BSSC) in tightly-contested games. The final game was incredible to watch – the girls had to dig deep and turn around a 5-goal deficit at half time to take out the match.
It was a brilliant result from a team that never gave up. They proceed to the Loddon Mallee Regional Championships on Thursday 25 July in Echuca.
SCHOOL SPORT VICTORIA: SANDHURST DIVISION
Senior Girls Netball Competition
Game 1: CMC vs Castlemaine Secondary College
The first quarter was a very close contest and the score reflected this as we were up by a solitary goal at the first break. Matisse Perez came into Centre (C) and Abby Powell into Wing Attack (WA). Bridie Semmens was an absolute powerhouse in defence and created many turnovers, which Ashlee O'Shea at Goal Shooter (GS), then started to capitalise on. Half time saw us with a handy 8-goal lead. Madeline Marks, after an 8am call-up, came on in Goal Keeper (GK) and had hands all over the ball. Meg Layton was back into the Centre and was very clever in the attacking half and Tess Keating came into Goal Attack (GA). Our lead was reduced to six at the last break, but we had control of the game overall. The last quarter saw Emmie Banfield back on court as GK and she put a stop to the flow of Castlemaine goals. Darcey Lloyd made it very difficult for the Castlemaine WA to create any space and was able to shut down the play. Final result CMC win: 36 – 26.
Game 2: CMC vs Marist College Bendigo
In this game we were committed to getting a good start. Keeley Jones started in GS with Tess Keating at GA. The accuracy and slick passing between the two goalers was impressive. Madeline Marks was moved to Goal Defence (GD) and this proved a great asset as the ball was able to be quickly moved out of defence. Matisse Perez provided great back-up support as the ball transitioned into attack and was able to feed the circle with perfection. Meg Layton came into Wing Defence (WD) and worked tirelessly to create many turnovers. The girls continued to go from strength to strength in this game and came away with the win, 40 – 15.
Game 3: CMC vs Bendigo Senior Secondary College
This was an absolute cracker of a game. In a world where we aspire for gender equality, this was worthy of being front page news in the Bendigo Advertiser. The first quarter saw a blow out in the score. The girls were finding it difficult to get any turnovers in defence due to the accuracy and pace of the BSSC goalers and we weren't able to convert any of our centre passes to score. We were down 1 – 5 at the end of the quarter. The second quarter saw Tess Keating come into GA and Keeley Jones moved to WA. This created more space and opportunities in the goaling circle and the defenders were working overtime, but the BSSC goalers were just too good. By the half we were down 7 – 12. In the third term Darcey Lloyd, Bridie Semmens and Emmie Banfield put on an absolutely stellar performance. They created many turnovers and with Matisse Perez and Keeley Jones successfully transitioning the ball into the goal third, we started to peg back the BSSC lead. At the last break we were down by just one goal. The last quarter started with a turnover and then a centre-pass goal for BSSC. So, we were down by 3 goals early in the third but the girls decided this was not how the story was going to end. Every single player and bench player increased their intensity, enthusiasm and power to play to their absolute maximum potential. Ashlee O'Shea and Tess Keating shot gloriously under immense pressure. With forty seconds to go, the scores tied at 19 – 19 and, with the ball in the BSSC goal circle, the defenders stepped it up yet again. Bridie Semmens created a turnover. The ball quickly moved down court, Matisse Perez kept her cool and penetrated the goal circle. The final goal was shot by CMC with three seconds left on the clock. Final score 20 – 19.
The professionalism, athleticism, comradery and respect of these young ladies is a credit to each and every one of them. I am so proud that, as a coach get to work with these girls.
A big thank you to Holly Normoyle (Year 11) for umpiring and Maree Pearce for her organisation, encouragement and amazing photography skills.
Ms Anthea McEniry, Coach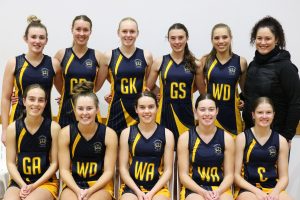 SENIOR GIRLS NETBALL TEAM
Back L-R: Keeley Jones, Bridie Semmens, Emmie Banfield, Ashlee O'Shea Madeline Marks, Ms Anthea McEniry (Coach)
Front L-R: Tess Keating, Darcey Lloyd, Abby Powell, Matisse Perez, Meg Layton