Strong start for Intermediate Volleyball
04/03/2021
SCHOOL SPORT VICTORIA
Sandhurst Division – Intermediate Volleyball
On Monday 1 March, the Yr 9/10 boys participated in the Sandhurst Division Volleyball.
The boys started in a pool of three, playing against Eaglehawk and Crusoe Secondary Colleges. The team performed particularly well and demonstrated great teamwork in all their matches.
In the first game, the boys took on Eaglehawk, winning in two sets. All members of the team played well with some excellent spiking from Min Min and solid passing from Eh Htoo. A greater challenge presented itself in facing Crusoe College who had a lot more experience in their team. Both sets were closely fought, ending in a draw 20-16, 16 -20. We witnessed great serving by Min Min and accurate spiking by Hea Savior, incredible athleticism from both Lin and Hea Ven and wonderfully impressive blocking by Law La. The boys finished second in their pool and then played off in the Silver pool determine fourth to sixth placing.
The first game in the Silver pool was against Bendigo South East College which the boys won 20-12, 20-13. The next game was a close and exciting game against a very tall Girton team with the first set going CMC's way 22-20 and a win overall.
Everyone contributed equally to the team effort for the day. The boys won the Silver pool, finishing 4th overall. A great effort for many first-time players.
The team represented their College with tremendous manners, excellent attitudes and great sportsmanship. Thank you to Connor Milton for assisting with scoring and Min Min for umpiring.
Also thanks to Ms Coles for coaching.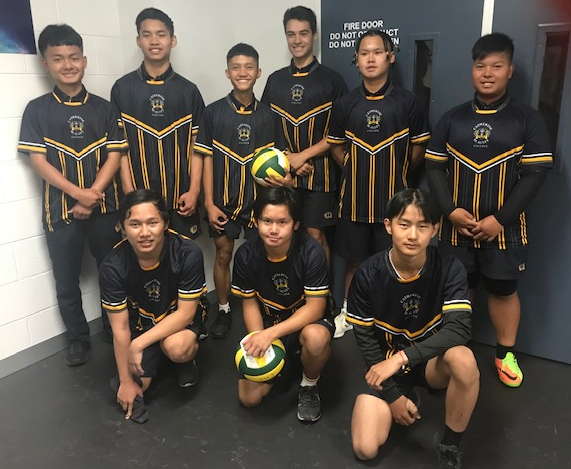 INTERMEDIATE BOYS VOLLEYBALL TEAM
Back  L-R: Eh Ni Thar Taw, Law La, Min Min Soe, Connor Milton, Hea Ven Moo Poe, Eh Htoo Twa Bleh Dah Moo
Front L-R: Sha Lway Soe, Hea Savior Moo Poe, Lin Naing Win