SSV Year 7 Cricket
18/10/2018
School Sport Victoria – Sandhurst Division
The Sandhurst Year 7 Cricket Carnival was held at Beischer Oval on Monday 15 October.
We lost the toss of our opening game against Bendigo South East College and were sent in to bat. After the loss of an early wicket, Louis Banfield (17) and Xavier Austin (35) managed to score 31 for the second wicket, which helped set us up for a big score. However, regular wickets prevented CMC from taking control of the innings and we finished 6/86 from 15 overs.
Defending 86 was set to be a difficult task against a strong BSE batting lineup; however, some economical bowling from Louis Banfield (1/5) and Charlie Edwards (1/11) put CMC in a great position to win the game. A 48-run fourth wicket partnership set up a thrilling run chase, with BSE needing only 8 runs from the last two overs to win. The 14th over went for only one run. A single followed by three dot balls put the pressure on the BSE batsmen, as they needed six off the last two balls to win. The second last ball raced to the boundary for a four, meaning a dot ball was required for CMC to win. BSE raced through for a single off the final ball and managed to claim a draw, finishing 4/86 from their 15 overs. Unfortunately, the match resulted in a loss for CMC as we had lost more wickets in our innings.
Our second match was played against Marist College. After winning the toss and electing to bat in a shorter, 8-over, format. We lost our first two wickets for only 10 runs, before a batting masterclass from Jasper Cheesman (36*) and Campbell Boyd (12) guided us to 3/81 from just 8 overs. The boys were electric in the field, putting the pressure on the Marist batting. The bowling attack led by Jack Smith (1/0) and Jasper Cheesman (1/1) helped restrict Marist to 2/43 from their 8 overs.
GAME 1 VS BSE:
CMC – 6/86
Xavier Austin 35
Louis Banfield 17
Charlie Edwards 8*
BSE – 4/86
Louis Banfield 1/5
Charlie Edwards 1/11
Harry Roberts 1/19
BSE WIN ON LESS WICKETS
GAME 2 VS MARIST
CMC – 3/81
Jasper Cheesman 36*
Campbell Boyd 12
Jack Smith 11*
MARIST 2/43
Jack Smith 1/0
Jasper Cheesman 1/1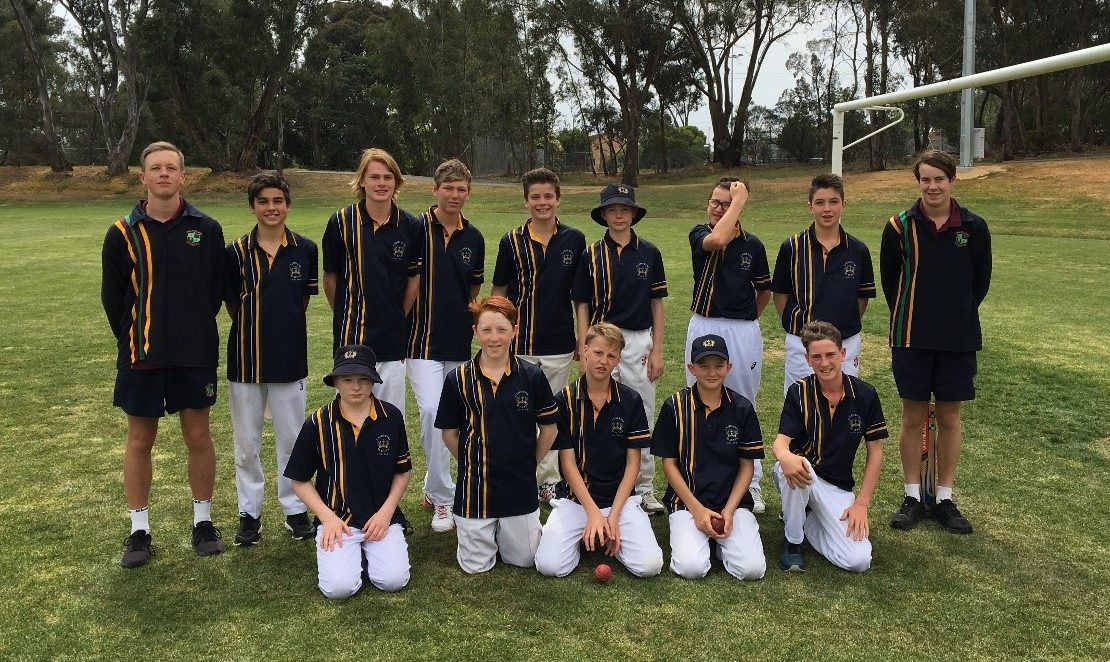 Back Row L-R: Lachlan Wass MY3, Harrison Kelly MK3, Harry Roberts VT4, Jack Wilson MK2, Jasper Cheesman MK3, Louis Banfield VT1, Charlie Edwards MK2, James Barri MK3
Front Row L-R: Callum Thompson BK3, Jack Smith CH5, Max Cahoon MY1, Jacob Floyd JR1, Xavier Austin JR3