Senior Volleyball entertains spectators
On Tuesday 2 April our Senior Girls and Boys Volleyball Teams competed in the Sandhurst Division of the Senior Volleyball Competition. Games were played against Bendigo Senior Secondary College (BSSC) and were very entertaining. Congratulations to both teams on an outstanding day and special thanks to Mr Waterman for assisting on the day.
Mrs Maree Pearce, Activities Coordinator – St Mary's
SCHOOL SPORT VICTORIA: SANDHURST DIVISION
Senior Girls
The Girls started the day's proceedings with an inexperienced team, however their determination to "have a go" and enjoy themselves was evident. They tried hard against a very strong opponent and even though they lost three sets to nil they improved immensely over the course of the three sets and their ability to sustain rallies increased with every point. It was great to see the girls enjoy the experience and represent the College in this competition.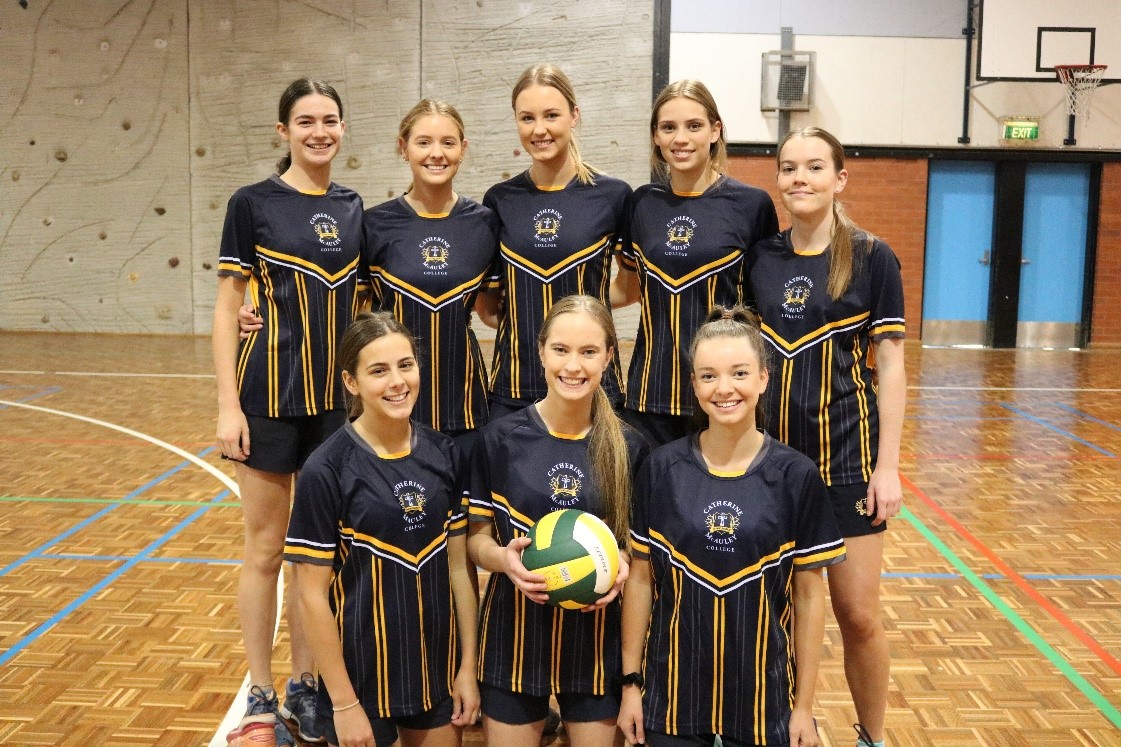 SENIOR GIRLS VOLLEYBALL TEAM
Back L-R: Ivy Harrop, Elli Trimby, Ruby Turner, Madeline Marks, Mackenzie Marsh
Front L-R: Meg Johns, Holly Eason, Zoe Painter
Senior Boys
The Senior Boys went into their match against BSSC with plenty of enthusiasm, high energy and belief. They may have also been out played three sets to nil, but as with the girls' efforts they showed incredible improvement in every set and did not make it easy for the boys from BSSC. They battled hard and at times looked like a pro team, but experience was the difference in the end, despite the tall, intimidating forward line! Bad luck boys, but thanks for the many years of laughs with your annual crack at Volleyball.
SENIOR BOYS VOLLEYBALL TEAM
L-R: Bryce Laird, Nathan Vincent, Thurah Maung, Aaron Gundry, Connor Findlay, Darcy Reading, Will Tobin