Senior boys headed for Tennis regionals
16/03/2021
SCHOOL SPORT VICTORIA: SANDHURST DIVISION
Senior Boys
A perfectly beautiful autumn day for tennis! The boys' team, consisting of Jackson Davis, William Gee, Connor Moore and Nicholas Martini, played in a round of four teams including Marist College Bendigo, Bendigo Senior Secondary College (BSSC) and Girton Grammar School.
In the first round, they played off against Marist and were successful in all singles and doubles, winning convincingly – 36-2.
In the second round, they faced their most challenging team, Girton, winning three of the four singles matches and both double matches. There were some well-fought matches by Nicholas Martini who took both his singles and doubles to 6-5 wins.
The third round saw the CMC team face BSSC and once again win three of the four singles matches. A convincing 6-0 win by Connor and Nicholas in their doubles match was followed up by a 6-5 win to William and Jackson.
All boys are to be commended for their sportsmanship and effort on the day, winning overall.  We wish them all the best in the next round in Mildura.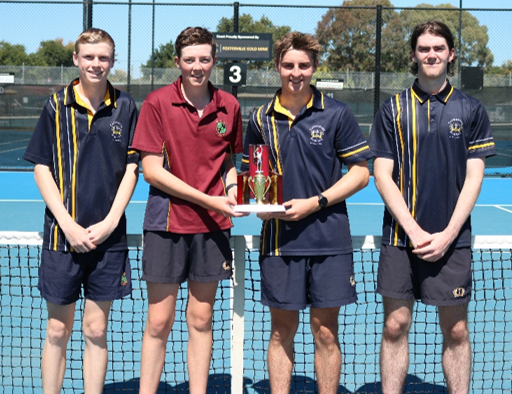 L-R: Nicholas Martini, Jackson Davis, Connor Moore, William Gee