Netball State Champions
18/09/2019
SCHOOL SPORT VICTORIA – STATE FINALS
Our Intermediate Netball Team took on the top netball teams in the state to win the School Sport Victoria State finals.
Intermediate Girls
The Year 10 girls went to Waverly to take on the finest in the competition and see how well they matched up. In the first match against Maribyrnong the girls started strongly taking the lead and control of the game in the first quarter and consolidated their position right through until the end of the third quarter. Maribyrnong came out of the blocks with a higher intensity in the last quarter and a few errors by our team were capitalized on allowing Maribyrnong to get back into the game and the result was a draw.
Against Viewbank in the second match the girls played solidly across the entire court for the whole game and this gave them a commanding win 39 to 9. Going into the last round against Rowville the girls knew that they were in for a tight tussle as both teams were fighting to consolidate their positions and qualify for the finals. The team went out strongly and led at each change to be in control of the match the whole way winning 29 to 15.
The semi-final saw the team play against Mentone who came out strongly challenging the girls early. However, with accurate shooting and consistent defensive pressure down the whole court, the girls were able to secure their way into the grand final winning 34 to 18.
The stage was set as the entire team rallied together to take on Catholic College Sale, after both teams eliminated the Melbourne based schools from the competition. In a great tussle with fabulous play by both teams, scores were level at the end of the first quarter, and then the girls were down by 1 at half time.
At the break players were reminded to keep pressure on across the court and lift to bring home the win. All players did so with outstanding success which saw them come home with the State Championships 21 to 16.
All the girls in this team are a credit to themselves, their parents and their club coaches for not only their abilities but for the way in which they conduct themselves. They are all attentive, knowledgeable and know how important it is to be a part of a team and this win was truly a reflection of their efforts. This is a fabulous competition of very high standard and the girls completed this competition without losing a match at any point which is a testament to their strength across the whole court.
Congratulations girls you should all be very proud!
Mrs Kristine Rosaia, Coach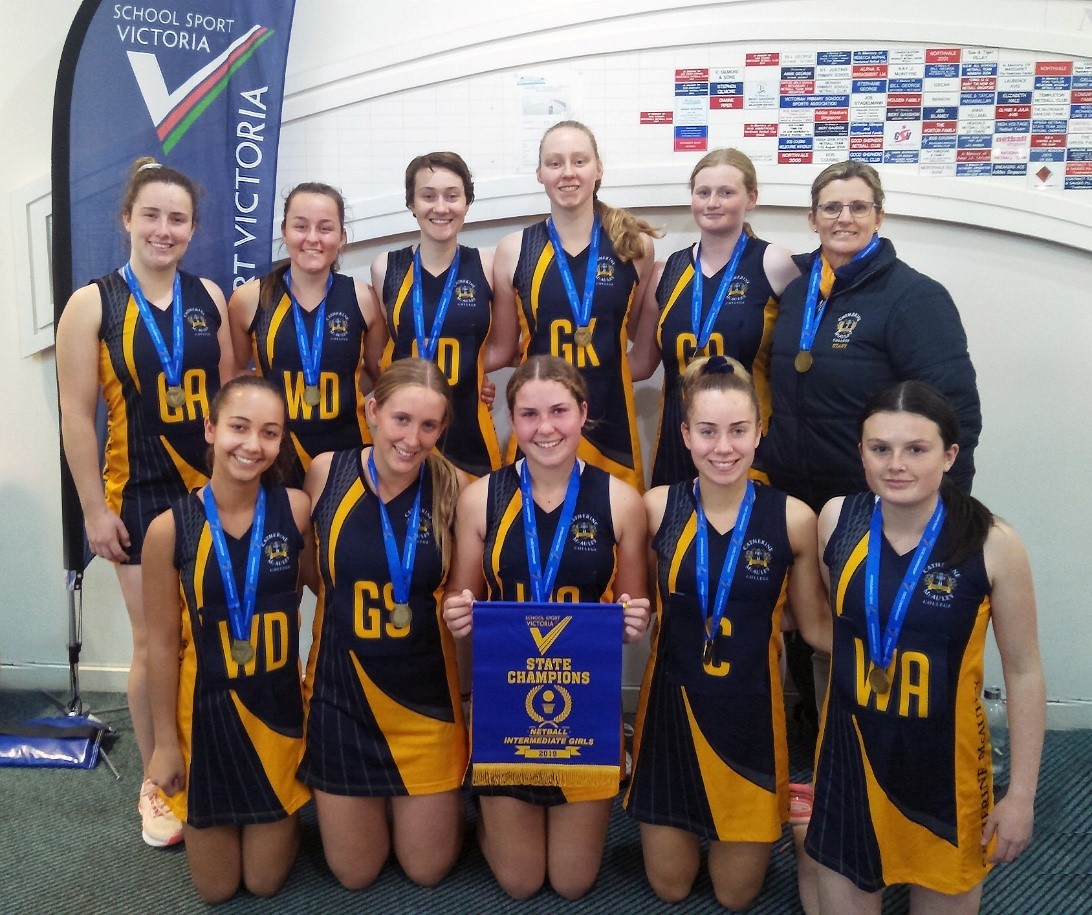 Back Row L-R: Abbey Clohesy, Ellie Donnellon, Deanna Duane, Piper Dunlop, Nikita Matthews, Mrs Kristine Rosaia (Coach)
Front Row L-R: Tiahna Leader, Tahlee O'Keefe, Carissa Brook, Meg McCarthy, Olivia Erwin