Intermediate Girls win Mollie Sandner Cup
30/03/2022
SCHOOL SPORT VICTORIA – SANDHURST DIVISION
Intermediate Tennis
The Mollie Sandner Tennis Cup for Intermediate Girls (Years 9 and 10) was held on Wednesday 30 March 2022, along with the Kel Pell Tennis Cup for the Intermediate Boys (Years 9 and 10). The matches were held concurrently at the Fosterville Tennis Centre in Nolan St in beautiful conditions.
Intermediate Girls
Catherine McAuley College was thrilled with the fabulous win by the talented girls' team who won all their matches, defeating all schools in the competition.
Results:
CMC def Victory Christian College – 6-1, 6-2, 6-0
CMC def Girton Grammar School – 6-3, 6-5, 6-4
CMC def Weeroona College Bendigo – 6-0, 6-1, 6-0
CMC def Marist College Bendigo – 6-1, 6-0, 6-0
All matches were played in good spirits with ideal conditions early in the day. All teams had to contend with wind which whipped up later in the day.
Mikayla Hill and Genevive Nihill were strong in their serving and were able to run down any challenge put to them by the top seeds in the opposing teams and there were several long rallies throughout the day.
The enthusiasm and obvious tennis talent shown by the girls was a pleasure to see. It was fantastic to hear that our girls conducted themselves well all day, and indeed helped and guided some of the newer teams in the competition.
Mikayla Hill was delighted to receive the trophy on behalf of the team and thanked all the organisers and in particular, Alec Sandner, who had travelled from Geelong to present the Mollie Sandner Cup, which is named in his mother's honour. All the girls later commented on the lovely speech Alec made, which reflected on why his mother Mollie began the competition in the latter part of WWII.
Congratulations to the Intermediate Girls who will now represent Catherine McAuley College at the Loddon Mallee Regional Championships in Mildura later in the year.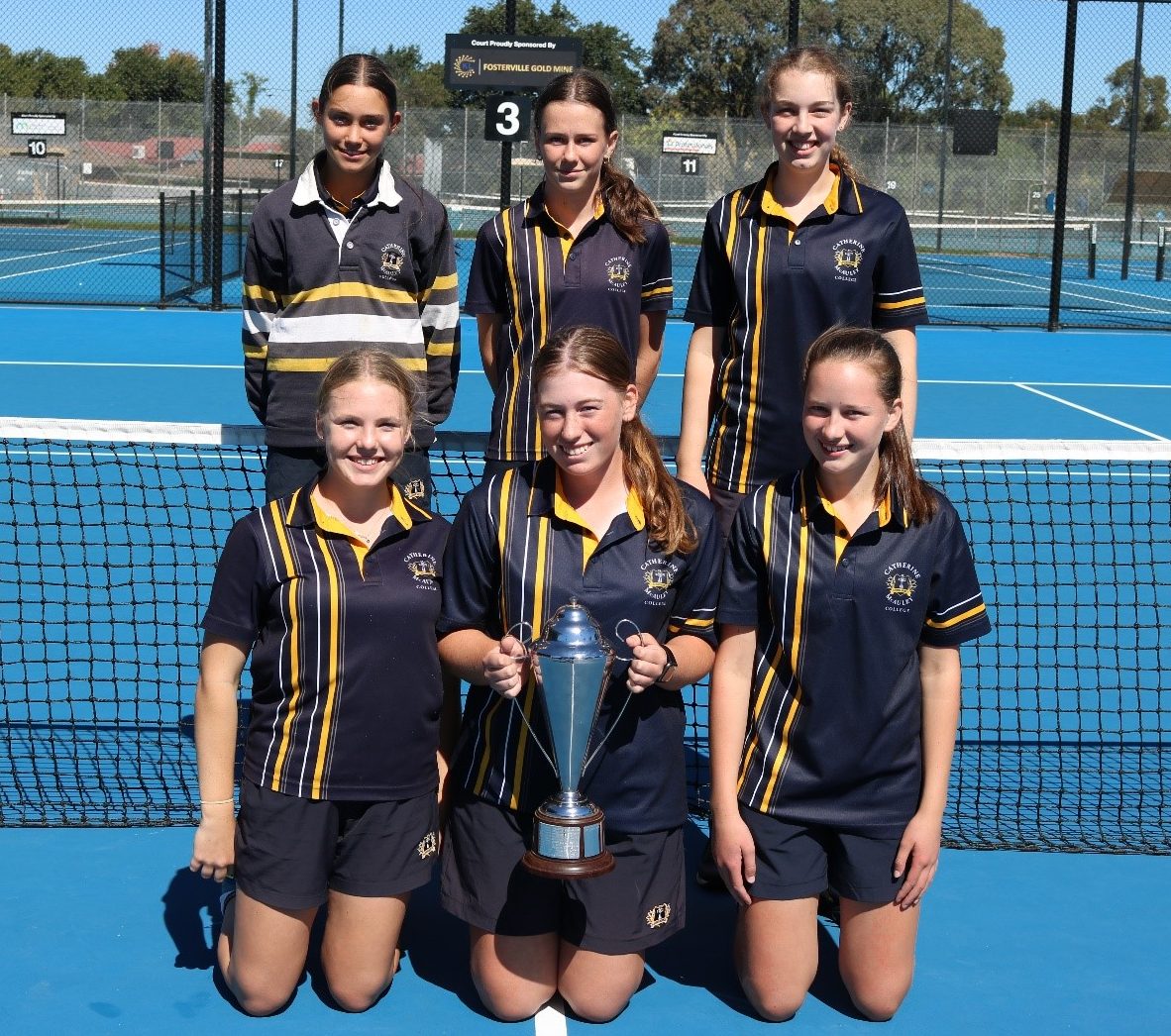 Back L-R: Genevieve Nihill, Lucy Trewick, Meg O'Callaghan
Front L-R: Sophie Monotti, Mikayla Hill, Madalyn Nihill
Intermediate Boys
The boys also had an enjoyable day, winning some matches, but they struggled against some of the teams, which was reflected in their results. It was pleasing to see the boys try their hardest all day and we thank them for representing the College so proudly.
Results:
Castlemaine Secondary College def CMC – 2-6, 1-6, 6-0
Marist College Bendigo def CMC – 2-6, 1-6, 6-3
CMC defeated Girton Grammar School – 6-3, 6-2, 6-1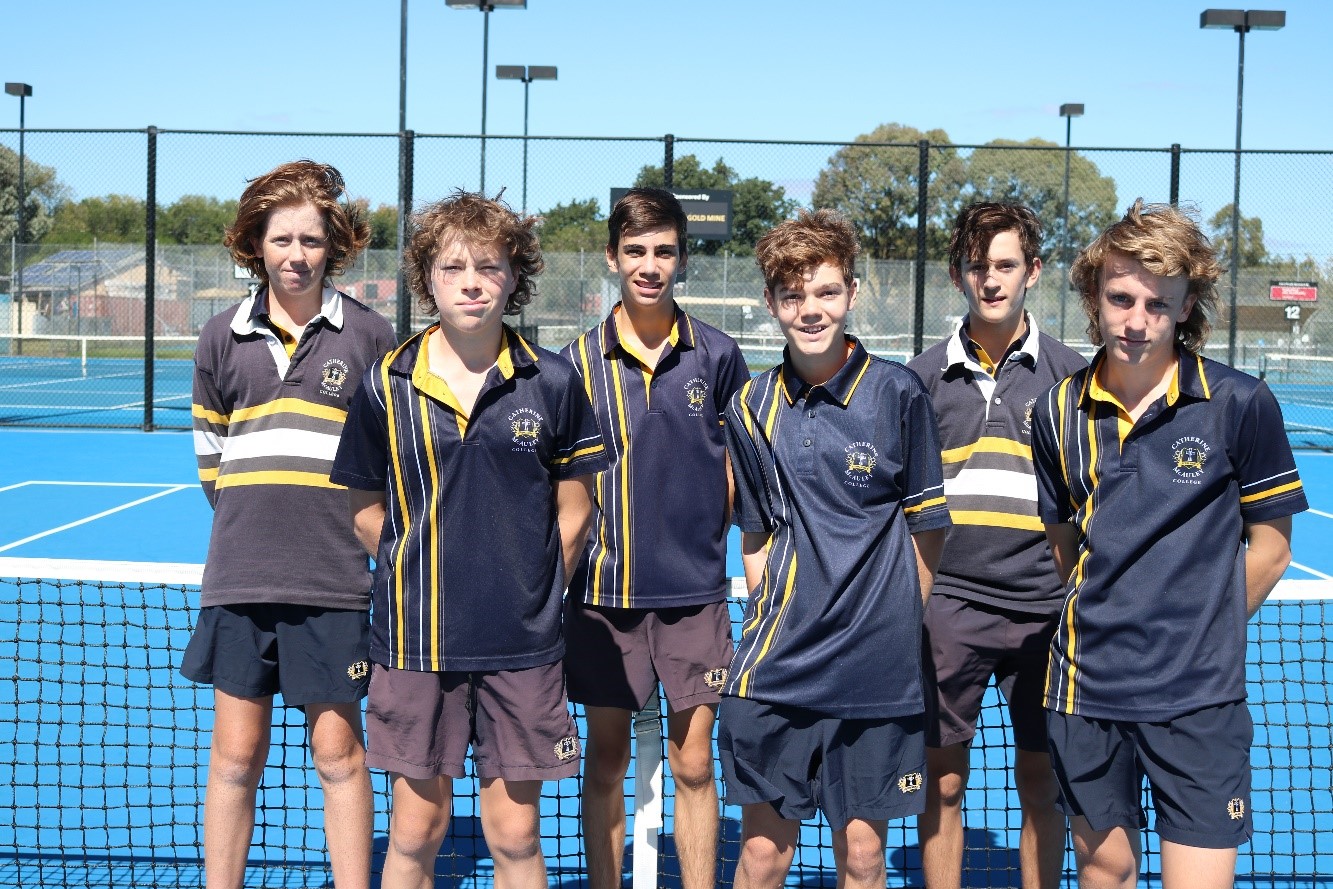 L-R: Flynn Saunder, Jaidi Jackson-Leahy, Joseph Artavilla, Noah Pellegrino, Tyler Doye, Oliver Edmiston