Intermediate Cricket Team heads for regionals
30/03/2018
SCHOOL SPORT VICTORIA: SANDHURST DIVISION
The Intermediate Cricket Team arrived at Club Court on Tuesday 20 March to compete in the Sandhurst Division Cricket Carnival.
The first game of the day was against Girton Grammar. After winning the toss and electing to bat first, the Catherine McAuley College (CMC) side provided an excellent batting display. A solid 3rd wicket partnership between Abe Sheahan (46*) and Noah Walsh (17) as well as a quick innings from opener Matt Wilkinson (16), helped CMC to finish at 4/108 off 15 overs. Some fantastic bowling and fielding from our boys made batting difficult for Girton. Cooper Smith (2/6) and Liam Nihill (2/10) lead the way, as we restricted Girton to 9/71 off their 15 overs.
The next match was played against Crusoe College. Crusoe sent us in to bat first and we looked to set a big total for them to chase. A strong opening partnership of 33 between James Barri (29) and Matt Wilkinson (13) as well as quick knocks by Wil Tuohey (36) and Cooper Smith (16) guided CMC to 5/121 from 15 overs. Crusoe started slowly, however with 6 overs to go, they were 2/65 and were on track for a victory. Our bowlers responded quickly, taking 3 wickets within a couple of balls. Cooper Smith was again the pick of the bowlers taking 2/6 whilst some tight bowling from Liam Nihill (1/6), Jai Featherby (0/4) and Sam Conforti (0/8) helped restrict Crusoe to 5/99. The boys played well in both games and we wish them luck for the Final on Monday 26 March against Eaglehawk Secondary College.
Intermediate Boys Cricket Team (L-R)
Back: Liam Nihill CH11, Noah Walsh CH8, Jai Featherby JR1, Cooper Smith JR7, Wil Tuohey MY2, Ethan Featherby JR3, James Barri MK3
Front: Samuel Conforti BK11, Nathan Walker BK11, Abe Sheahan BK8, Nicholas Wallace MK10, Matthew Wilkinson VT3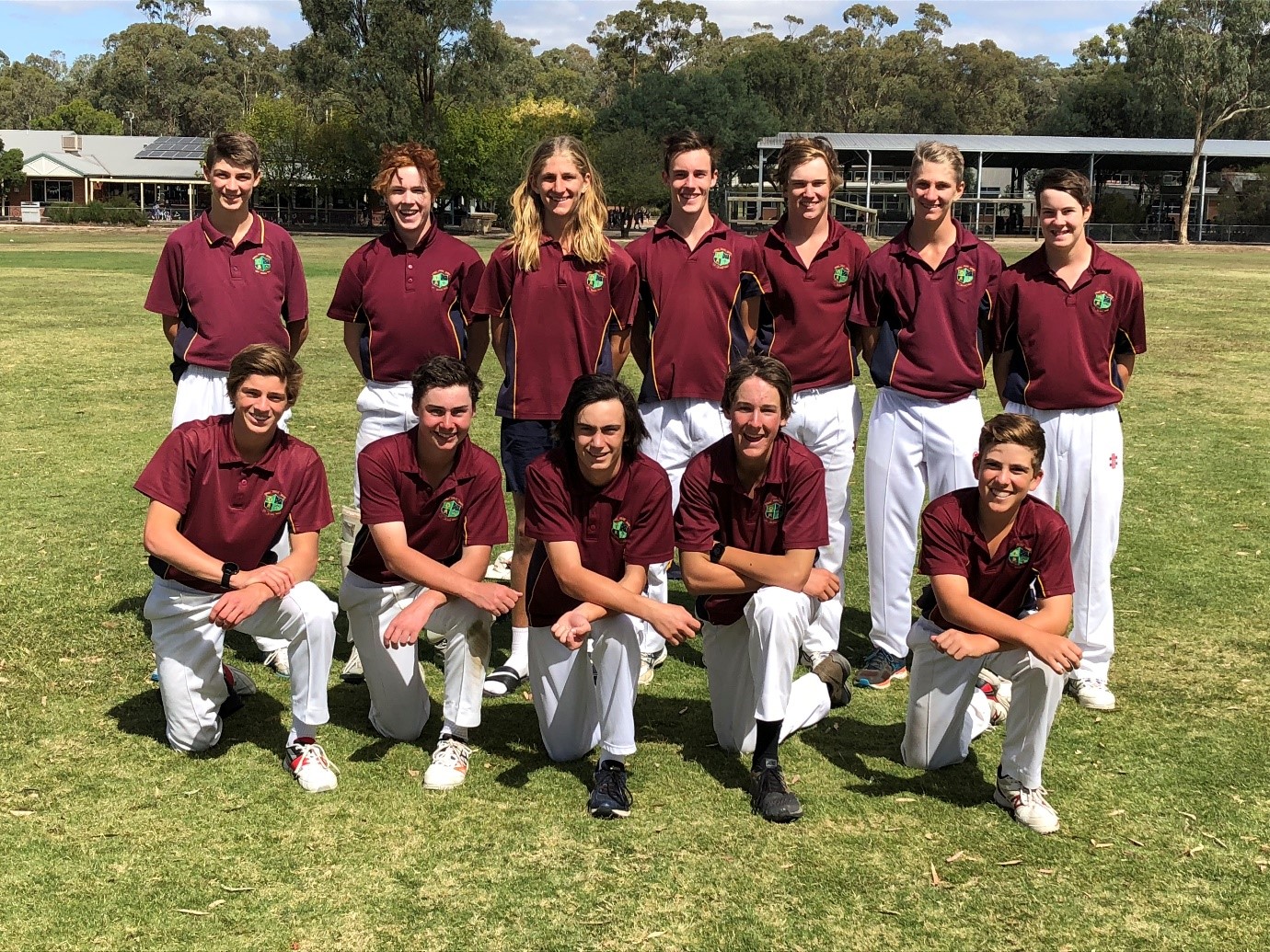 Intermediate Boys Cricket Sandhurst Finals Day
The Intermediate Final was held at Spring Gully on Monday 26 March between Catherine McAuley College (CMC) and Eaglehawk Secondary College. Eaglehawk won the toss and elected to bat first. Some tight bowling from the openers Sam Conforti (0/5) and Liam Nihill (0/2) made it difficult for Eaglehawk to score. However, a 40-run second wicket partnership steadied Eaglehawk, as they posted 4/113 off their 20 overs. Cooper Smith led the way with the ball taking 2/10, whilst Nicholas Wallace also managed a wicket, taking 1/15.
In reply, CMC started well with a quick opening partnership of 31 between Matthew Wilkinson (11) and James Barri (35). After losing 3/5, the CMC batsmen were able to steady the run rate and chase down the total in the 18th over. Noah Walsh top scored with 54* whilst Wil Tuohey made 27*, guiding us to 4/142 from our 20 overs. Congratulations to the boys, who now will go on to play in the Loddon Mallee Region stage in Term 4.