From the Principal – 21 July 2022
19/07/2022
Dear Parents and Carers
It's great to see that most of our students have settled quickly into the rhythm of Term 3. We thank the families and staff who have helped students to meet the challenges posed by cold, wet weather and the prevalence of illness in the community. It won't be long until we see longer daylight hours and feel more warmth in the sun. Meanwhile, we have a busy term ahead.
At Coolock, our students are enjoying access to the newly upgraded ovals. It has been wonderful to see the students making the most of the open spaces to engage in ball games and socialise during the breaks.
The Catherine McAuley College community congratulates our Bishop Shane Mackinlay for his praxis as the Vice President of the Plenary Council. Bishop Shane's advocacy and courage are significant in the landmark acknowledgement of women in the Church. Please see the attached article (below) from Fr Frank Brennan commentating on the extraordinary events of recent weeks.  As a Mercy College advocating for gender equality and representation, is critical for the viability and future of our Church, inspiring some sense of stake, hope and opportunity.
Last week, Certificate II Agriculture and Year 9 Agriculture students were fortunate to be involved in the return of the Australian Sheep and Wool Show after the event had been cancelled for two years in a row. Our students assisted in the setup of sheep pens and wool classing booths for the show and gained valuable industry exposure. We were delighted that we received the Australian Fleece Competition Agricultural College and Schools Awards Reserve Champion for the Polwarth Fleece. The president of the show committee personally thanked our students for their hard work and we are proud of our students for the way they represented our College. Click here to read more.
Meanwhile, we are doing our best to ensure that the College calendar remains as normal as possible to support our students and give them every opportunity to grow and develop during their time at Catherine McAuley College. Next week our Year 10 students will take part in the Year 10 Camp. The students will split their time between activities in Melbourne and a program at St Mary's. The 'Back at School' program will include valuable sessions on health, social and emotional learning, subject selection and reGEN. Both parts of the camp are essential aspects of Year 10 life and offer the students lasting memories and important personal growth.
Subject Selection Information Evening is another important event that will be held next week that is a vital aspect of the senior years schooling. Students, along with parents and carers, are encouraged to make the most of the information presented at the Marian Gym next Monday and to speak to teachers about choosing their best options. Supporting the Subject Selection Evening will be the Student-led Conferences the following week. The decision has now been made to offer the Student-led conferences fully online in the interest of limiting large gatherings.
The following week we look forward to the return of the annual performance showcase, the Winter Concert. This is a great opportunity for students across the College to demonstrate a variety of performance styles and gain valuable performance experience. The evening will feature presentations by our music students as well as the co-curricular ensembles.
As mentioned in the last News Update, Monday 1 August will be Rug Up Day in support of Vinnies, which was our fundraising focus throughout Term 2. This day will be a casual clothes day with the heating turned off across the College. Students are encouraged to contribute a gold coin and are invited to bring a non-perishable food item or toiletries to donate to Vinnies.
We will also hold assemblies at both Coolock and St Mary's which will coincide with National Homeless Prevention Week.
National Homeless Prevention Week – Who is my neighbour?
Housing is a human right, but on any given night in Australia more than 116,000 people are homeless.
Every day, our staff and members see the human face behind the homelessness statistics. Homelessness doesn't discriminate – the homeless population comprises people of all ages and backgrounds.
For some, homelessness is a one-off occurrence. For others, it is a prolonged experience that may be interspersed with periods of being housed. The experience of homelessness in Australia can also vary greatly – from sleeping on the streets or other unsafe temporary situations, to moving between temporary situations (e.g. 'couch surfing'), to living in a crowded or unsafe dwelling that impacts a person's ability to participate in family, community life and find secure employment.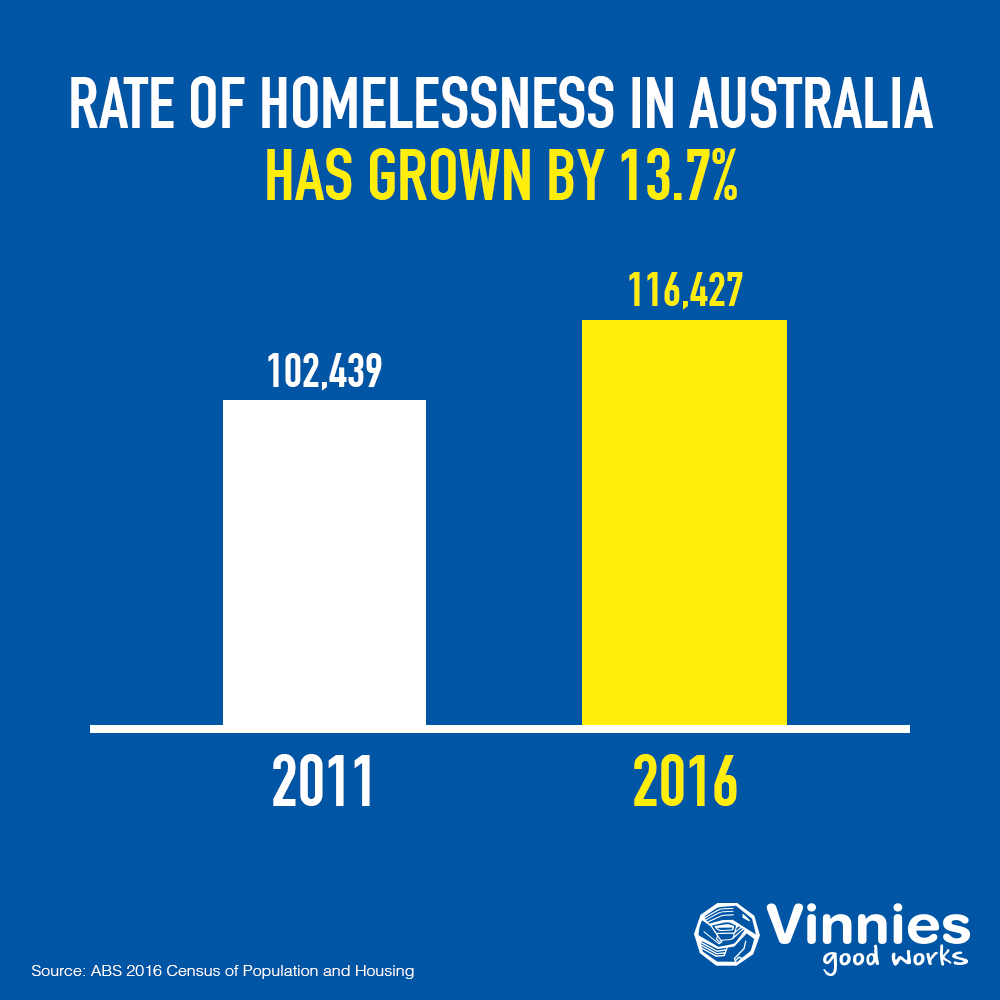 There is simply not enough affordable housing to meet demand, and the situation has been getting steadily worse.
For example, the share of all homes that are public or community housing fell from 7.1 per cent in 1991 to 4.2 per cent in 2016; and maximum payment rates under the Commonwealth Rent Assistance scheme have fallen behind average rents over the past two decades. In summary:
There is a national shortage of just over 400,000 homes that are affordable for people who are homeless or living on the lowest incomes.[i]
190,000 households are already on waiting lists for social housing.[ii]
There are more than one million low-income households (2.65 million people) renting in the private market and this figure has more than doubled over the past two decades.
Two-thirds of vulnerable private renters are currently in rental stress, and 170,000 households have less than $250 to survive on each week after paying rent.
The specialist homelessness service system is turning away 254 people each day.[iii]
Half of households experiencing rental stress are still experiencing rental stress four years later.[iv]
Despite this situation, Australia has no national plan to tackle the housing affordability and homelessness crisis. Deep and sustained reform is urgently needed on a number of fronts.
Prayers for Homeless Persons
O God you are a God of justice, mercy and compassion.
Support us your servants of the poor, as we endeavour to bring your love and compassion to people who are homeless and in need of your love.
We pray that we will see you, our all-loving God, in each homeless person we encounter and in our service for those in need.
May we do all in our power to support each person to reach their potential, so they experience the fullness of life.
We ask this prayer through Jesus Christ Our Lord.
Amen
Once again, our apologies for the early finish last term. The forecast has always been dire for the impact of COVID through August and September. We will continue to take every measure to ensure that we offer every program that we can. If there are events that can be modified, then we will do that. The Student-led Conferences sessions will be online this term. It is a safer approach and reduces the risk. At present, the subject information is still on site, we will monitor the situation and if things regress we may need to look at moving that to online.
Stay safe and warm
Kind regards
Brian Turner, Principal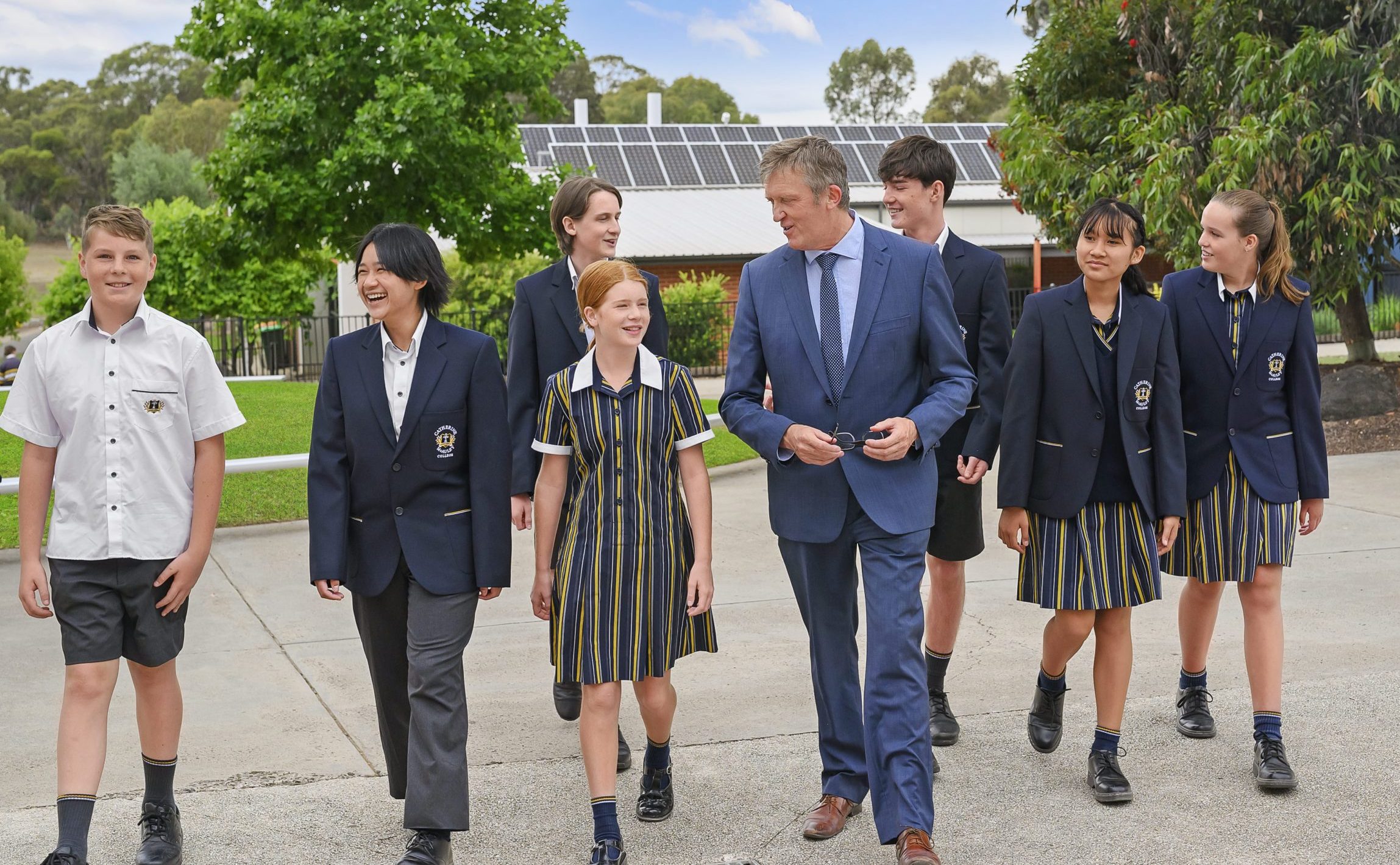 [i] Troy, D. Nouwelant, R., Randolph, B. 2019. Estimating need and costs of social and affordable housing delivery. UNSW. City Futures Research Centre.
[ii] Australian Institute of Health and Welfare. 2018. Housing assistance in Australia 2018. Accessed at: https://www.aihw.gov.au/reports/housingassistance/housing-assistance-in-australia-2018/contents/prioritygroups-and-wait-lists
[iii] Australian Institute of Health and Welfare 2019. Specialist Homelessness Services Annual Report 2018–19. Cat. no. HOU 318. Canberra: AIHW. Accessed at: https://www.aihw.gov.au/reports/homelessness-services/shs-annual-report-18-19
[iv] Australian Government. 2019.Productivity Commission. Vulnerable Private Renters: Evidence and Options. Accessed at: https://www. pc.gov.au/research/completed/renters
[v] Parliament of Australia. 2004. A hand up not a hand out: Renewing the fight against poverty – Report on poverty and financial hardship; 2008 Henry Tax review, Parliament of Australia. 2019. Living on the Edge: Inquiry into Intergenerational Welfare Dependency. ACOSS. 2019 Social Housing as Infrastructure. 2019. Media Release. 2019. Community Housing Industry Association congratulates the re-elected Coalition Government.
Fr Frank's Homily – 10 July 2022