BFL All Stars @ Melbourne Sports and Aquatic Centre
Wednesday 7 August saw Year 12 VCAL Service students assisting with the Balloon Football League (BFL) All Stars match at the Melbourne Sports and Aquatic Centre (MSAC). An early train ride for eleven students (plus staff) enabled the student involvement to stretch from a weekly basis assisting with SCOPE Disability and the Bendigo Balloon Football teams, to students volunteering their time to help with an exciting match that involved players participating from different regions around Victoria –  North (Keysborough), East (Vermont), West (Geelong and Keilor) and North (Heidelberg and Bendigo).
Four players from the Bendigo League were given the opportunity to represent their region by playing in the match. There was one game – the Saints vs the Bulldogs. Half-time entertainment was provided by a SCOPE supported band called 'Partypack' – a very tribal inspired music presentation.
Students undertook roles of field umpiring, scoring, goal or boundary umpiring, team manager and pushers for different players.
Throughout the game there was some excellent strategy and team play along with exciting scoring opportunities and amazing sportsmanship. The CMC students were strategic in their manoeuvring of players and it was evident that there was healthy rivalry between members of both teams! A final victory went to the Saints (80 – 45) who were captained by Jye Yates – our very own school liaison officer from here in Bendigo!
As an extension to the VCAL program, involvement in activities such as these help to complete competencies in Applied Learning and implement prior knowledge and practice in real life circumstances, working with SCOPE officials, liaison officers and carers.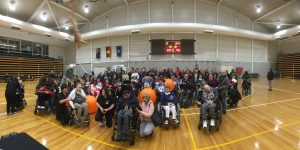 All team members, carers, SCOPE liaison officers and officials – more photos below.